Send flowers to someone in compassion, support, and condolences to the people they have left behind. We have discussed things you need to learn about the flowers for funeral.
There are many cultures in the world, flowers are considered to play a vital role in remembrance of someone's grief, and they are a universal part of funeral traditions. However, flowers represent life, but they can be comforting at the moment of someone's demise.
The world has a population of about 7.3 billion people, and hundreds are dying each day. Almost every one of us has attended a funeral at some point in our lives. But, no matter how many times we have attended a funeral, the question arises of etiquettes when it is time. And reminders for proper behavior, dress codes are frequently needed.
Funeral flower etiquette is one of the most questionable topics. There are gazillions of questions, and as a result, people are unsure about what to do when there is a need to attend a funeral.
In this article, we have discussed things you need to learn about the flowers for funerals.
Need of Flowers
Many cultures in the world follow the tradition of sending flowers when someone passes away. Somebody may tell you that flowers are only for the living but can be very consoling to see during an overwhelmingly unhappy time.
When someone passes away, we send flowers to someone in compassion, support, and condolences to the people they have left behind.
Funeral Flower Types
If you are looking for funeral flowers arrangements, do not worry; plenty of choices are available.
Casket sprays and interior casket floral arrangements are generally chosen and given by immediate family members. If you aren't that close to the person who passed, you do not need to provide these flowers.
The casket floral arrangements and the standing sprays are sometimes chosen and given by the family members. Smaller versions of these lovely flower arrangements are chosen and supplied by friends.
When choosing a proper floral arrangement, please avoid things that include embellishments. It is seriously inappropriate. And if you are confused, it is better to contact a florist. Or you can contact us, Temple City Florist, we can guide you through it.
What should you send to a funeral?
The best advice we can give you is always to send flowers you think the person would have loved. If you know the person closely, then I guess you know what color they like. So that's the flower you should send.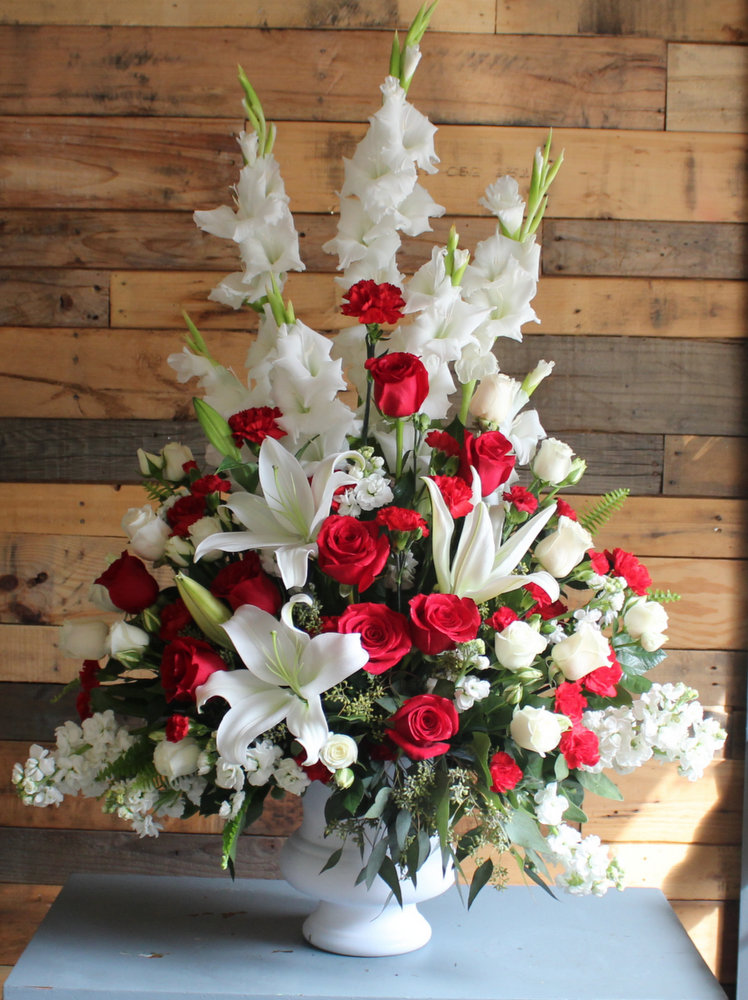 However, if you do not know what to send, you can use traditional flowers. It is better that you do not keep yourself trapped. Send any flowers you can. Traditional flowers like roses, lilies, chrysanthemums are some of the best flowers you can send at a funeral.

Roses
Roses are pretty common for the funeral. The color of the flower that you choose can convey deep meanings. These flowers are symbolic of love and passion and also evoke feelings of gratitude and admiration. White roses symbolize general remembrance.
Calla Lilies
These flowers are symbolic of beauty and purity. Lilies are symbolic of deep compassion.
Dahlias and Freesias
Dahlias and Freesias represent love and purity. And these two flowers are arranged for a loving wife.
Orchids
These flowers are the best flowers you gift somebody. These flowers represent friendship. These flowers can convey your deepest messages and an expressive way to say goodbye to someone for the last time.
We have the best stock of flowers in Temple City, CA.; you can shop from our site, and we will deliver your order as early as possible. So shop now to get an instant funeral flower delivery in Temple City, CA.